I don't know why a farmer/voter in Minnesota should understand global warming and extreme weather better than a farmer/voter in in South Dakota,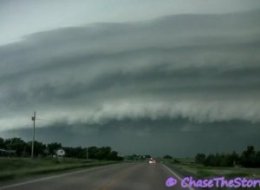 but both states are experiencing the same global warming impact of extreme weather and South Dakota continues to elect public officials who will oppose any meaning act to reduce global warming and Minnesota goes the other way.
When South Dakota gets it, things will change. Conservative does not have to mean slow to change and stubbornly dim-witted, it could mean interested in the conservation of the natural environment that is the foundation of our way of life.
An Almanac of Extreme Weather

THE news from this Midwestern farm is not good. The past four years of heavy rains and flash flooding here in southern Minnesota have left me worried about the future of agriculture in America's grain belt. For some time computer models of climate change have been predicting just these kinds of weather patterns, but seeing them unfold on our farm has been harrowing nonetheless.

Climate change, I believe, may eventually pose an existential threat to my way of life. A family farm like ours may simply not be able to adjust quickly enough to such unendingly volatile weather. We can't charge enough for our crops in good years to cover losses in the ever-more-frequent bad ones. We can't continue to move to better, drier ground. No new field drainage scheme will help us as atmospheric carbon concentrations edge up to 400 parts per million; hardware and technology alone can't solve problems of this magnitude.